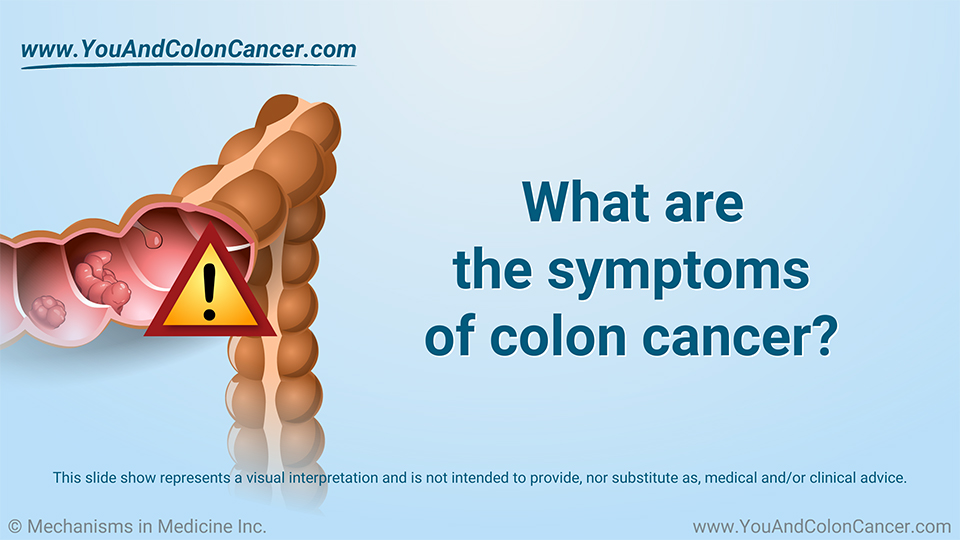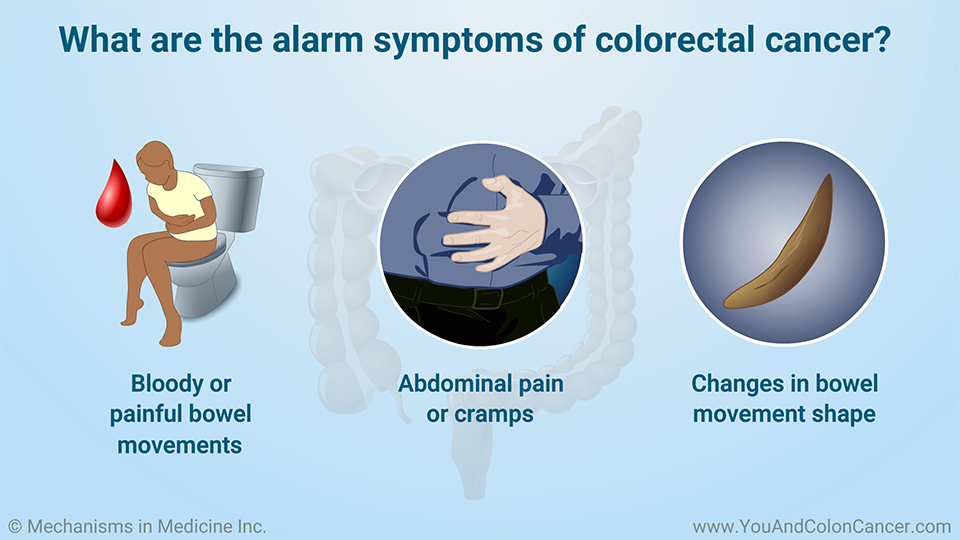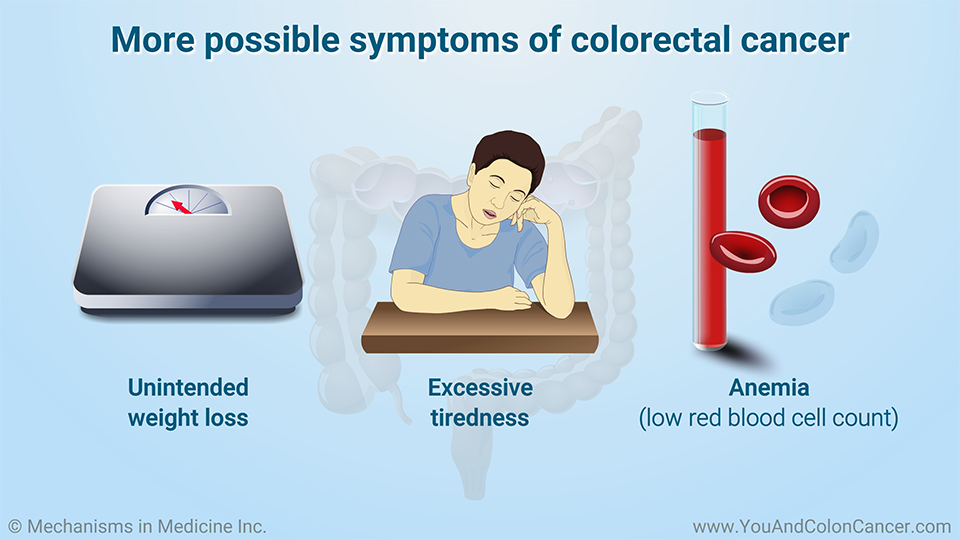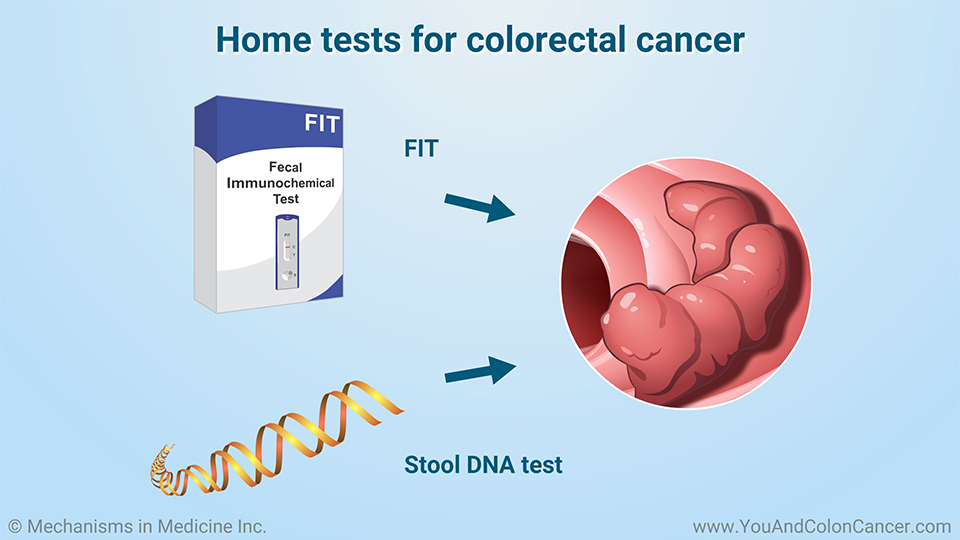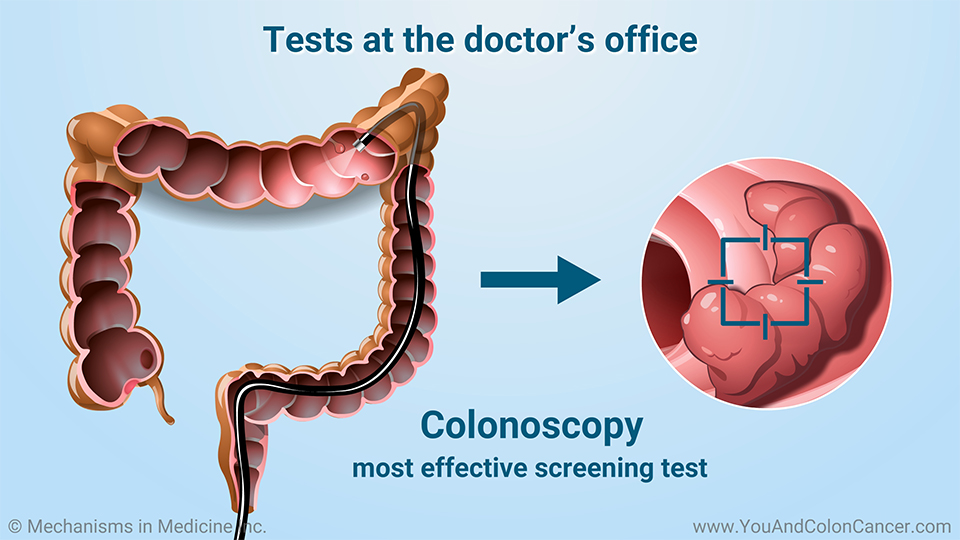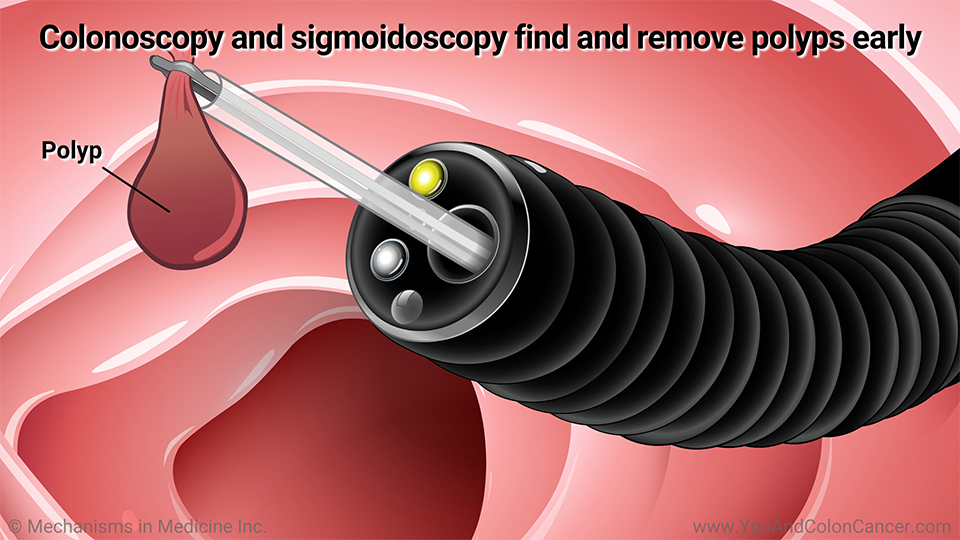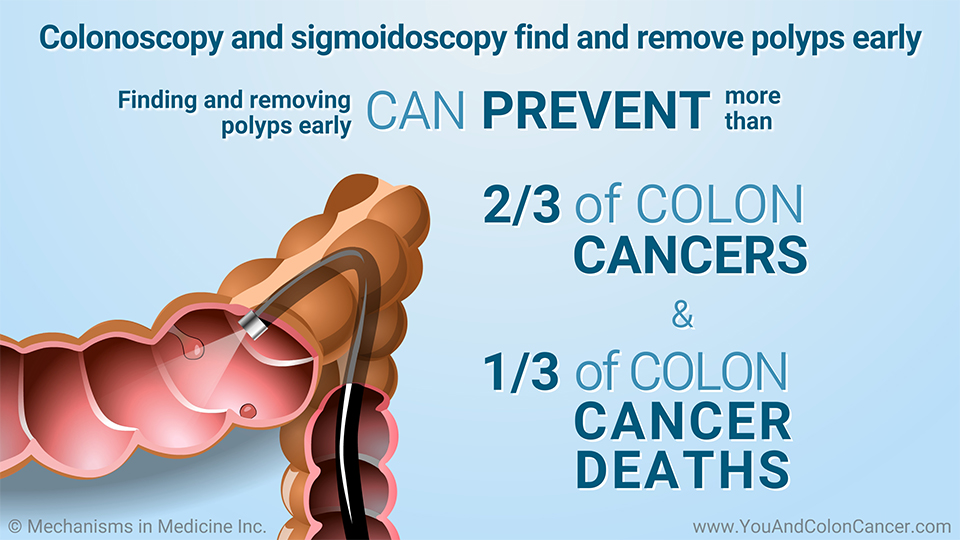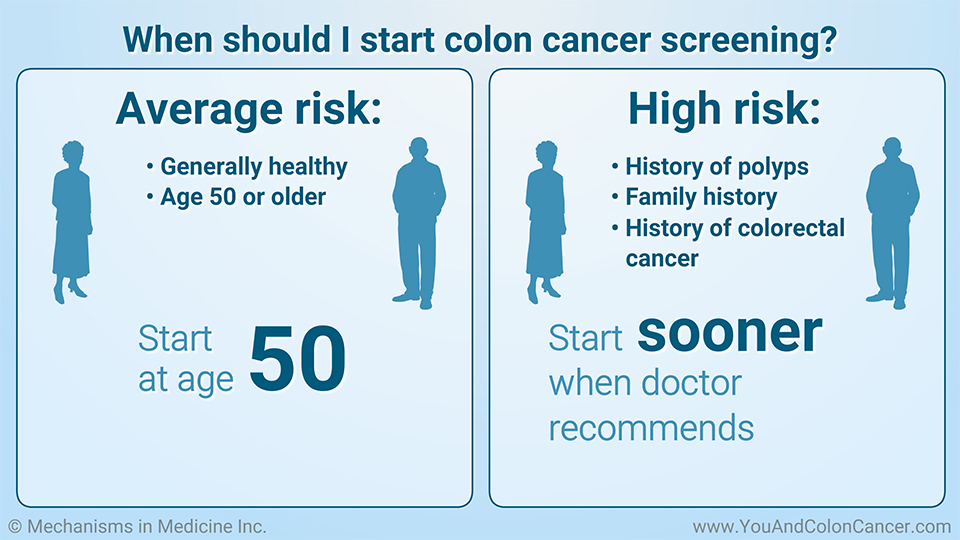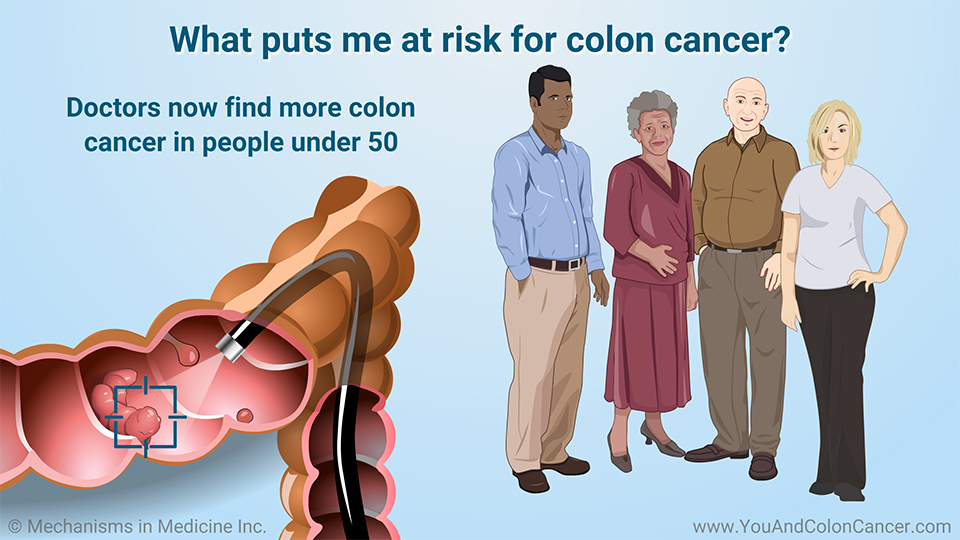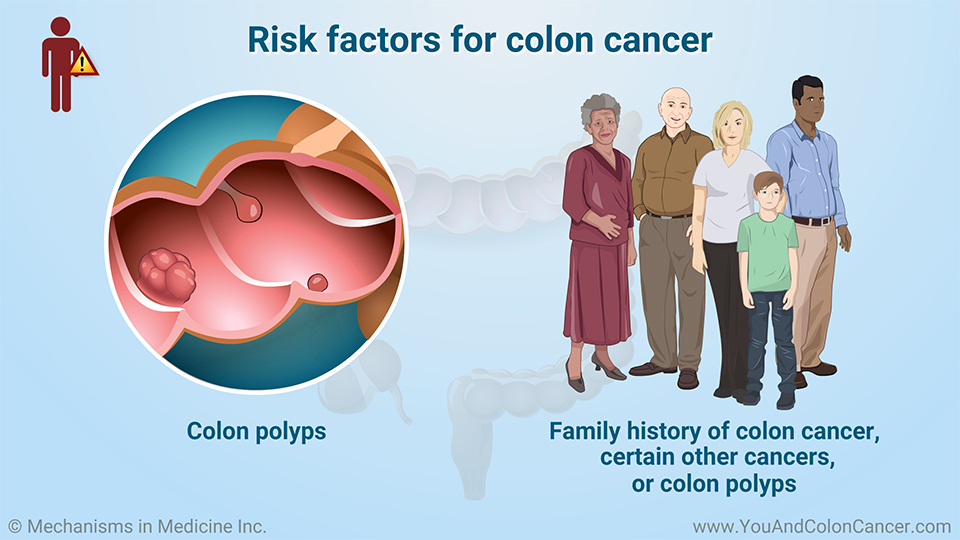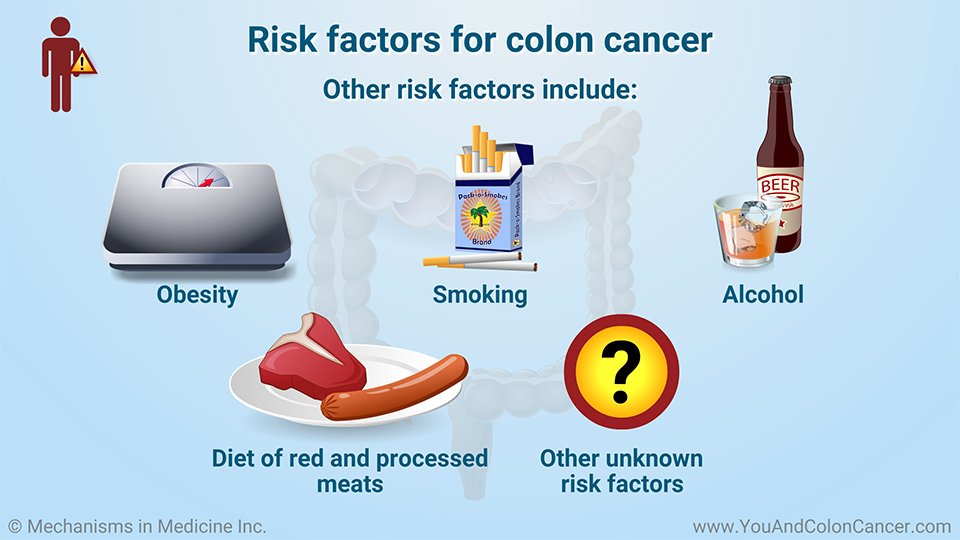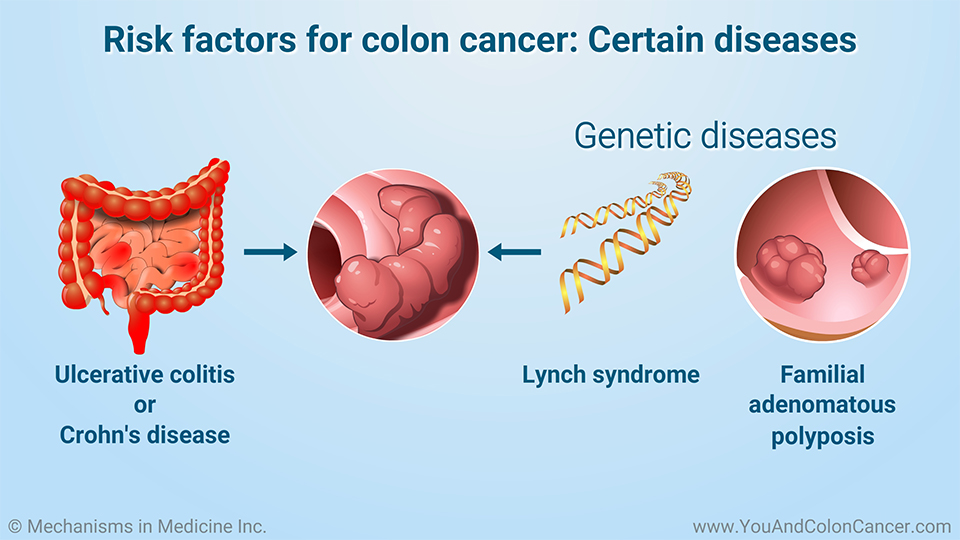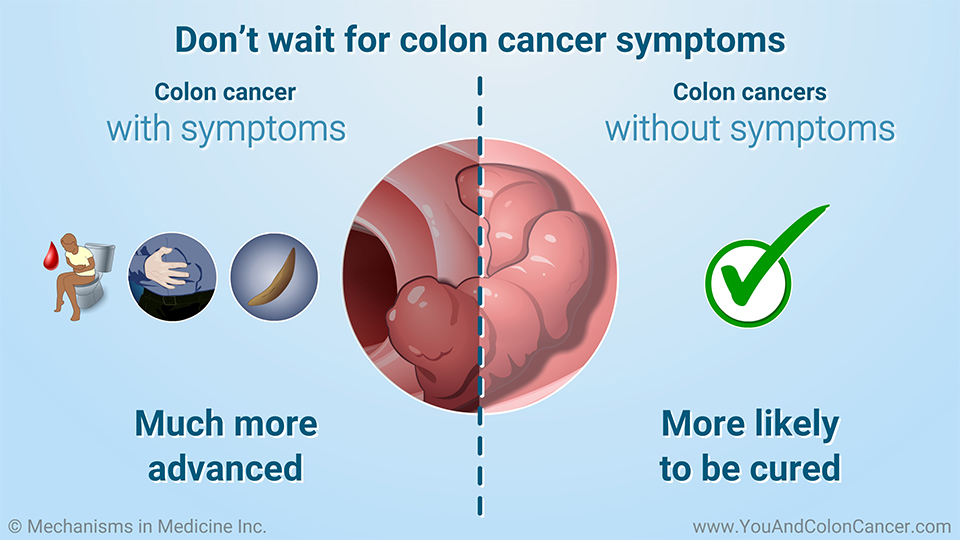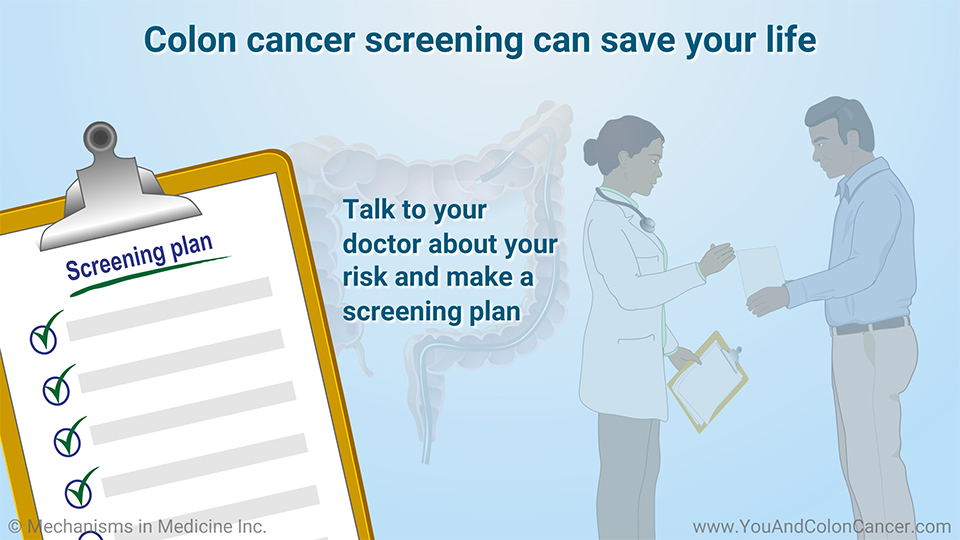 What are the Symptoms of Colon Cancer?
*This slide show represents a visual interpretation and is not intended to provide, nor substitute as, medical and/or clinical advice.
What are the alarm symptoms of colorectal cancer?
Colon cancer symptoms can be similar to the symptoms of many common conditions, such as indigestion, hemorrhoids, or irritable bowel syndrome.
What are the alarm symptoms of colorectal cancer?
Alarm symptoms include bloody or painful bowel movements, abdominal pain or cramps and changes in bowel movement shape.
More possible symptoms of colorectal cancer
You might also lose weight without trying, feel very tired, and have anemia, a low red blood cell count.
Talk to your doctor if you have any of these symptoms that do not go away in a few days.
Testing for colon cancer: Colonoscopy
If you have symptoms, your doctor can do a colonoscopy to check for cancer.
Remember, you need a regular screening colonoscopy to look for colon cancer – but you can also have one if you or your doctor suspect something is wrong.
Screening tests for colon cancer
Regular screening tests for colon cancer are important to catch it early.
A screening test checks for cancer in people who do not have symptoms.  
Colon cancer tests include home stool tests, a CT scan, a colonoscopy, or a sigmoidoscopy (a partial colonoscopy which examines the lower colon).
The home stool tests can look for early cancer. A colonoscopy or sigmoidoscopy can both look for cancer and prevent it by removing polyps.
Home tests for colorectal cancer
A FIT test checks for hidden blood in bowel movements.
Another test checks your stool for cancer DNA, which shows if a tumor is present.
All these tests have you send samples of your bowel movements to a lab for testing.
Tests at the doctor's office
The most common test recommended for detection of polyps or early cancer is a colonoscopy.
Your doctor will use a thin, flexible, lighted tube to check part or all of your colon.
Doctors consider colonoscopy to be the most effective screening test.
Colonoscopy and sigmoidoscopy find and remove polyps early
Your doctor can remove polyps during a colonoscopy or sigmoidoscopy.
This can stop them from developing into cancer.
Colonoscopy and sigmoidoscopy find and remove polyps early
Doing this can prevent more than two thirds of colon cancers and one third of colon cancer deaths.
When should I start colon cancer screening?
Age 50 is the usual recommended time to start having a screening colonoscopy.
If you have high risk, such as colon cancer in your family, you might need to start sooner – sometimes much sooner.
Talk to your doctor about when to start, which screening tests you need, and how often.
What puts me at risk for colon cancer?
Men and women have a similar level of risk for colorectal cancer.
While most people are over 50 when colon cancer develops, today doctors are finding more cancers in younger people.
Risk factors for colon cancer
The main risk factors for colon cancer are having colon polyps or having family members who had colon cancer, certain other cancers, or colon polyps.
Other risk factors for colon cancer
Other risk factors include obesity, smoking, alcohol, and an unhealthy diet, including years of eating a lot of red meat and processed meats.
There may be other risk factors that doctors do not yet know.
Risk factors for colon cancer: Certain diseases
Certain diseases also raise your colon cancer risk.
These include Ulcerative colitis or Crohn's disease, and genetic diseases such as Lynch syndrome and familial adenomatous polyposis. Genetic diseases can lead to cancer as early as age 30.
Don't wait for colon cancer symptoms
Colon cancers found when you have symptoms are likely to be much more advanced than those that cause no symptoms.
Regular screening is important because cancer found before you have symptoms is more likely to be cured.
Colon cancer screening can save your life
You might want to avoid screening because it seems embarrassing and uncomfortable, but it doesn't have to be – and it can prevent cancer.
Talk to your doctor about your risk and make a screening plan.
Slide Show - What are the Symptoms of Colon Cancer?
This slide show describes the various symptoms you might have if you have colon cancer. The numerous tests used to screen for colon cancer are reviewed, including home stool tests, CT scans, colonoscopies, and sigmoidoscopies. The effectiveness and significance of removing polyps by doing a colonoscopy or sigmoidoscopy is also explained. Colon cancer risk factors such as your age, family history of the disease, your lifestyle habits, and having other certain diseases are discussed as well.
Click here to take our SURVEY
Your feedback is important to us! We will use your feedback to develop future areas of content about colon cancer which will help other patients, caregivers and families.
Please rate this content: